Właśnie dotarły: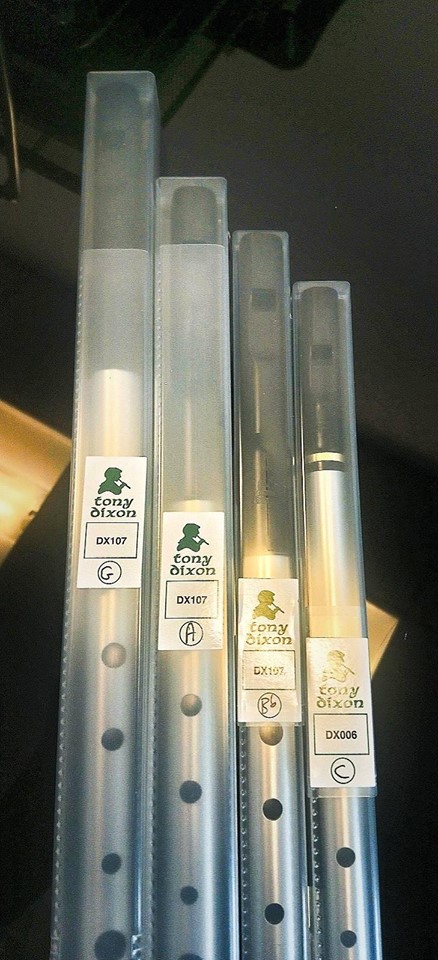 Do tej pory mój zestaw akompaniamentowy to aluminiowy alt F i tworzywo G, A, Bb, C, D, strojone whistle Dixona. Te z tworzywa, świetnie stroją, ładne brzmienie ale nieco ciche (to generalnie cecha korpusów z tworzywa).  Sprawdzają się doskonale do ćwiczenia w domu i wtedy gdy akompaniuję komuś w kameralnych warunkach. Niestety wystarczy większy pub i nieco szumu na sesji bym zginął w tle ;). Długo nosiłem się z zamiarem uzupełnienia zestawu a komplet whistli metalowych, głośniejszych.
W ramach testu kupiłem rok temu brakujący mi do zestawu alt F (aluminiowy bo nie ma wersji z tworzywa). Dixon między innymi, robi whistle z toczonego aluminium (grubość ścianki korpusu to 1 mm). Okazało się, że świetnie stroi (Dixon te whistle dostraja ręcznie), ma ładne i dość głośne ciepłe brzmienie. Tak więc jak już dojrzałem by dokupić zamienniki metalowe do plastików, które mam, padło na te Dixona.
Tak więc mam teraz:
tworzywo: alt G, A, Bb, sopran C, D
blacha: sopran E, Eb
aluminium 1 mm: alt F, G, A, Bb, sopran C
mosiądz 1 mm: sopran D
Ten ostatni brzmi jak dzwon, nie kupowałem więc już aluminiowego D, bo ten mosiężny sopran D, który służy mi raczej tylko do solówek, przebija się zawsze i wszędzie ;). Jako że nie przepadam za low D, używam "w tej konkurencji" poprzecznego D, drewniany bez klapek (simple keyless system), który dla mnie brzmi znacznie lepiej niż whistle low D.. :).