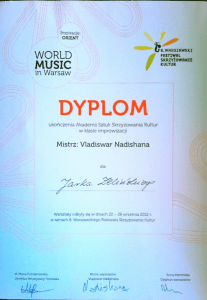 No to mam 🙂 Warsztaty i nauka improwizacji, rytmu i słuchania. Cenne lekcje w postaci spędzenia czasu z kimś kto ma ogromne niedowidzenie, tysiące godzin grania z innymi muzykami.
Warsztaty to nauka polegająca na możliwości grania w warunkach gdzie zwracanie uwagi na czyjąś grę jest celem a nie nietaktem. Warsztaty z "mistrzem" to autorytet osoby, która zwraca Ci uwagę.
Dlatego ciesze się, że udało mi się wziąć w nich udział.
W ramach festiwalu Skrzyżowania Kultur działo się wiele, poza warsztatami i koncertami były jamy, improwizowane koncerty w klubie festiwalowym i nie nie tylko.
Czekam na następny festiwal.
A tu radiowy wywiad z Nadishaną: