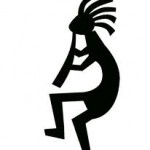 Od czasu do czasu jestem pytany o moje instrumenty i o to co i jak gram. Z muzyką etniczną mam "wiele wspólnego" :), z dwóch powodów: gram na instrumentach, flety, etnicznych (no i co z tego, nie ja jeden:)) i gram (staram się ;)) w sposób jaki robią to "autochtoni" regionów z których dany instrument mam.
To co mnie fascynuje w tym graniu to inna niż, temperowana mezotoniczna, skala. Otóż nie ja jeden (na szczęście dla mnie) czuję różnicę pomiędzy instrumentem "symfonicznym" a prostym "ludowym".
Typowa skala dzięków, jakiej uczymy się w szkole i z jaka mamy do czynienia na koncertach to:
Strój mezotoniczny dysponuje tylko i wyłącznie następującymi dźwiękami:

C, Cis, D, Es, E, F, Fis, G, Gis, A, B, H, [C].

Wynika z tego, że takie niezbędne nam dzisiaj dźwięki, jak Des, Dis, Ges, As czy Ais, nie są dostępne i nie mogą być otrzymane. Dlaczego? Bo klawisze brzmią tak, że enharmonizm istniejących dźwięków nie jest możliwy. Do brakujących dźwięków należałoby utworzyć dodatkowe klawisze. (Temperacja mezotoniczna (strój średniotonowy) | Ars Polonica).
W takiej skali pewne "melodie" są niemożliwe do zagrania (no, do czystego zagrania). Istnieją stroje "do góry" i stroje "w dół" (polecam powyższy, bardzo dobry, artykuł).
Flet to instrument jednogłosowy, nie ma więc ograniczenia na "zakazane akordy" bo ich nie używa. Tu liczy się wyłącznie  melodia i to jest wyzwanie. Nie twierdzę, że rozbudowana muzyka na zespół czy orkiestrę jest gorsza. To po protu zupełnie inna muzyka (choć przyznam, że Bacha uwielbiam).
Cieszy mnie, że nie zatracamy jednak "starych zasad", który tak na prawdę powstały na "nie temperowanym" ludzkim słuchu. Tu więcej o tym:
Muzyka europejska od kilka wieków opiera się na skalach majorowych i minorowych. Jednak w czasach średniowiecznych a nawet w starożytności istniały inne skale. Skale te zagościły ponownie w muzyce ludowej na przełomie XIX i XX w. (TEORIA -> Inne skale poza dur-moll).
Ja należę, do ludzi uznających jednak wyższość prostej melodyjnej muzyki "z głębi duszy", szczególnie tej improwizowanej, nad złożonością orkiestry symfonicznej. Jednak przyznam także, że coś co niektórzy nazywają "muzyką psychodeliczną" to już chyba nie muzyka a sterowany hałas…
Na koniec polecam  spędzenie kilu chwil z muzyka grana instrumencie (suling), który ze skala temperowaną (czyli nasze fortepianowe białe i czarne klawisze) nie ma nic wspólnego :):
http://youtu.be/eWRHVorvE1k (a tak wygląda [[suling]]):
To bardzo pobieżny opis tego czym jest skala muzyczna, ale nie było moim celem pisanie wykładu. Chciałem raczej zwrócić Waszą uwagę na to, że siła "prostej" muzyki bierze się z jej prostoty :).