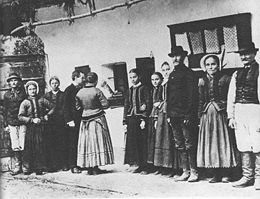 Szwendam się po folkowych imprezach jako głownie jako słuchacz a czasem jako wykonawca i obserwuje, że ma miejsce zjawisko wartościowania trendów purystycznych, improwizacyjnych, wzorowaniu się na tradycji.
Z jednej strony puryści mają rację, hołubiąc muzyczny skansen. Użyłem tu słowa 'skansen' w bardzo pozytywnym znaczeniu, bo oderwanie się od korzeni powoduje utratę "fundamentu". Coś w tym jest, że historia i tradycja czyni tożsamość. Ale nie jest to powód by klasyfikować jako gorszą muzykę, która ze skansenu  tylko czerpie ale nie jest nim, uznać ją za gorszą.
Mam do czynienia z muzyką graną na żywo i z płyt z różnych stron świata. Gdybym miał klasyfikować, to raczej była to muzyka bogata stylistycznie  i płytka i pusta (nazwijmy ją ludowe disco-polo). Cierpi na to każdy region świata. Mam płyty z muzyką z Afryki, z Ameryki Południowej i Północnej, z Azji. Każdy z tych regionów ma swoje disco-polo i ma bardzo wartościową wyzwalającą pozytywne emocje muzykę. Marcin słusznie zwrócił (chyba jako jedyny) uwagę na ważna rzecz: nie powinno się mieszać muzyki tanecznej z muzyką obrzędową… Jest wybór i oby był. Ale to jest moje zdanie.
Polecam gorąco audycję, w której można posłuchać zdania i muzyków i badaczy by skonfrontować je z własnym (wyróżniłem swoje sympatie :)):
Czy folkowcy dewastują polską muzykę tradycyjną, czy puryści podążają jedyną słuszną drogą? Próbowaliśmy znaleźć również odpowiedzi na pytania: Jaka jest dzisiejsza scena muzyki etnicznej w Polsce? Jak można ją promować? Jak wspomagać? Jaką rolę odgrywają polscy muzycy na rynku muzyki świata?- Ludzie w świecie, gdzie trudno im odnaleźć własne źródła, muszą tworzyć nowe formy. A w Polsce mamy nadal unikalną sytuację. Szczególnych, wiejskich, charakterystycznych rzeczy możemy się uczyć – mówi skrzypek Janusz Prusinowski, który uważa akurat, że folk jest zagrożeniem dla muzyki tradycyjnej.W studiu Programu 2 dyskutowali o tym m.in.: Maria Baliszewska, Weronika Grozdew-Kołacińska, Marcin Drabik, Remigiusz Mazur-Hanaj, Maria Pomianowska, Janusz Prusinowski, Adam Strug, Paweł Luto, Maciej Szajkowski oraz Tomasz Janas.

za pomocą Folk jest prymitywny? Ludowe granie zagrożone? Muzycy dyskutują – Dwójka – polskieradio.pl.
Bardzo ważną rzecz, moim zdaniem, powiedział Adam Strug i Marcin Drabik: zanim zaczniemy łamać reguły, nauczmy się ich… dotyczy to zresztą nie tylko muzyki…