================ C O – J A K – K I E D Y ================
Zapraszamy na koncertowe przywitanie lata w Wypiekach Kultury.

Sobota, 21 czerwca, otwarcie: 19:00, start: 20:00

======================= K T O =======================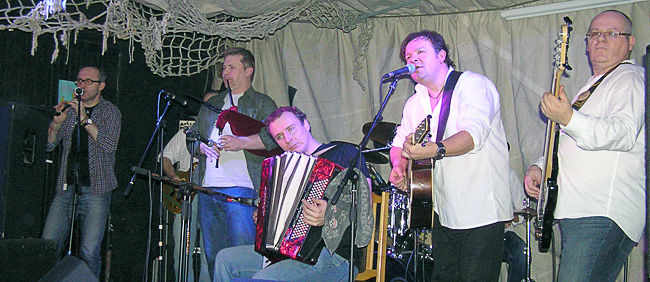 Meltrad o sobie:
Od początku fascynowała nas muzyka irlandzkich pubów. Uznaliśmy, że klimaty codzienności i świąt mieszkańców Zielonej Wyspy bliskie są klimatom polskim. Dokładne, a czasem dosadne tłumaczenia pozwolą polskiej publiczności przybliżyć nastroje tamtego rejonu. Zachowując oryginalną linię melodyczną, ubraliśmy te piosenki w ostrzejsze brzmienie, ale staramy się nie tracić nic ze spontaniczności utworów.
Za wzorzec służą nam produkcje zespołów The Pogues, Levellers, Clannad, Chieftains, Great Big Sea, Big Cyc, Exploited, Metallica.
Zawsze stawiamy na dobrą zabawę. Naszym mottem jest refren jednej z piosenek, zatytułowanej "Pół na pół":
Pijmy, bracia, do dna,
Dzielmy chleb i sól.
Polska i Irlandia! Pół na pół!
ETHNOTRANS
Ethnotrans ? Jarosław Żeliński, multiinstrumentalista. Zawodowo analityk. Występuje od 1998. Jest miłośnikiem trasowej instrumentalnej muzyki o podłożu etnicznym bazującej na muzyce obrzędowej. Krąg jego zainteresowań muzycznych to głównie world music, ethnojazz, fusion a także muzyka ilustracyjna. Gra na wielu instrumentach, jednak największą jego pasją są flety i fujarki oraz ambientowa atmosfera koncertu na żywo. Występuje lub występował z twórcami i zespołami: Metrad, Goście z Nizin, Werchowyna, The Irish Connection, Piotr Novotnik, Maciek Cierliński, India Czajkowska i wieloma innym podczas wielu jamów.
Strona Ethnotrans: http://ethnotrans.zelinski.biz.pl/ .
================= G D Z I E – Z A _ I L E =================
Wypieki Kultury
ul. Stolarska 2/4 (róg Szwedzkiej i Letniej)
Warszawa Praga
Wstęp: 0 zł
NA FB: https://www.facebook.com/events/663920456994962