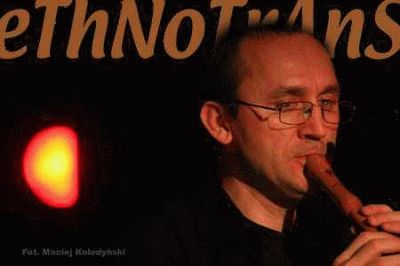 Amatorskie, słabej jakości nagranie z klubu PraCoVnia, leżało i leżało. Następnie [[Radar Gierszewski (Kings Tone)]] (dziękuję ;)) doprowadził je do stanu używalności, potem upgrade portalu pozwolił na publikację nagrań i jest, teraz każdy może posłuchać:
Kilka słów o tym jak wygląda koncert. Otóż często na scenie jestem sam, zaś jako nie znający nut 😉 "skazany jestem" na improwizowanie. Generalnie taka jest idea tych koncertów: powstają na żywo na scenie, jeżeli coś wpływa na muzykę to nastrój mój i widowni.
Jak zapewne słyszycie, "muzyków jest wielu": to sampler. Każdy dźwięk, linia melodyczna, to kolejno – na żywo – dogrywane ścieżki. Od rozpoczęcia każdego "kawałka" powoli przybywa brzmień i powstaje na żywo muzyka, zapraszam na moje koncerty, każdy jest inny bo inaczej się nie da 🙂 .