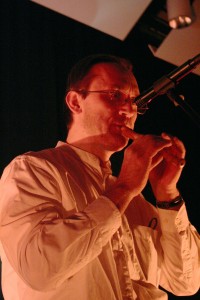 Okazuje się, że granie  w małych klubach to wyzwanie, także dlatego że z reguły nie dysponują dobrym nagłośnieniem, że o akustyku nie wspomnę… Są kluby nastawione na spokojną atmosferę, niezbyt głośną muzykę w tle, i rozsądny ruch przy barze.  Trudno winić takie kluby za brak sprzętu do nagłaśniania instrumentalistów, koncerty to nie ich główny biznes.
Tak więc nie pozostało mi nic innego, by grać w takich klubach, jak zainwestować w osobisty piecyk :).
Informacja dla klubów i akustyków
Mój nowy piecyk to VOX AGA70. Mam tu dwa kanały: dla instrumentu z wyjściem liniowym (tu mój  syntezator) i dla instrumentu akustycznego (moje flety) wyposażone w przedwzmacniacz lampowy. Mój dotychczas używany preamp lampowy niestety padł, a naprawa nie jest tańsza od zakupu nowego, więc odpuściłem. Po drugie, aby to żelastwo nosić po klubach muszę jednak redukować liczbę sztuk do przeniesienia, więc takie combo jak najbardziej ma sens.
Mam z niego także neutralne symetryczne wyjście DI (niepotrzebny jest DI Box) na konsolę, więc w razie potrzeby i większej sali, moje nagłośnienie staje się moim odsłuchem.
Skoro się już pochwaliłem, zapraszam do zapisywania się na listę subskrybentów 🙂 bo wznawiam granie w tym roku. Pozdrawiam i zapraszam.
Gdyby ktoś z Was znał ciekawy klub w Warszawie, zainteresowany spokojną ambientową muzyką na fletach z różnych stron świata, inspirowaną etnicznym obrzędowym nastrojem i elektronicznym brzmieniem tła, proszę dać znać. Kluby także zapraszam do kontaktu.